Your carefree holiday at the Hotel Schneider
Menu
book and request
4 star ****superior
Superior stands for first-class, high-quality, impeccable and modern 4* facilities throughout the whole hotel and even more in service and hospitality – quality-checked by a mystery guest during classification. We constantly do our utmost to improve our service to guests and are delighted to have received this award.
AMA Gastrosiegel
We have been awarded the "AMA Gastrosiegel" for our fresh food preparation and the use of regional raw materials. Amongst other things, this seal stands for beef and veal from our own farm "Hintergottschallgut in Radstadt", for pork from the Ablinger and Ladinger butchery, for milk from our own farm and many additional products such as vegetables, potatoes and herbs, which are also sourced from local farms.
Best for People Award
As one of the few businesses in Salzburg, we received the prized award "Best for people" for our outstanding working environment. We would like to thank our excellent team.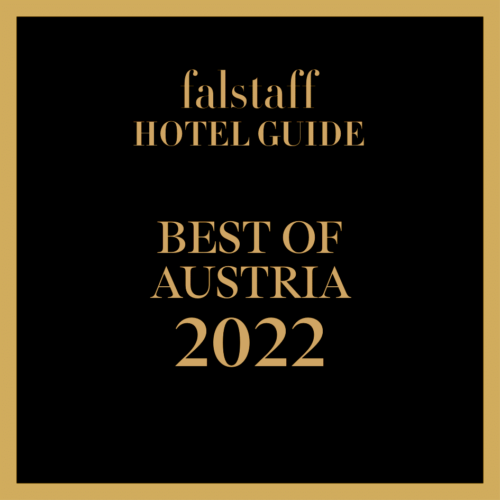 Falstaff Hotel Guide – Best of Austria 2022
Thousands of guests – including 25,000 Falstaff Travel Club members as well as a selected jury of experts – have submitted ratings for over 1,400 hotels. The Hotel Schneider received a great rating and achieved 90 out of 100 points! We are very honoured.
Relax Guide Spa Award 2022
From the Relax Wellness Guide – the renowned guide for wellness holidays in Austria and Germany – we have received the honourable lily award for outstanding performance for the 10th time in a row. We would like to express our sincere thanks for this! More on relax-guide.com/schneider 
Pistenhotels Award 2022
We feel so honoured to have received the Pistenhotels Award 2022 – which means we are the best ski hotel in 2022 in the German-speaking countries! The editorial department of pistenhotels.info seek the 50 best hotels for a ski holiday: comprehensive, independent and completely transparent. We are so happy!! More information here: pistenhotels.info
Wellness-Hotel Award 2022
For the first time wellness-hotel.info awarded the best wellness hotels of the Alpine region and we are amongst the 50 best of them! Thank you so much for this award, we are very grateful.
Recommended on HolidayCheck 2021
We are 'Recommended on HolidayCheck'! In a year like this we are even more grateful for so much positive feedback. Thank you to all of our guests for rating us so positively. 6 of 6 points and 100% recommendation – a huge thank you goes to our team too, you are great! Find out more on holidaycheck.at
Tripadvisor Travellers' Choice 2021
We are delighted to have been awarded the Travellers' Choice Award by Tripadvisor once again in this unusual year. This puts us in the top 10% of the most popular hotels worldwide. More on tripadvisor.at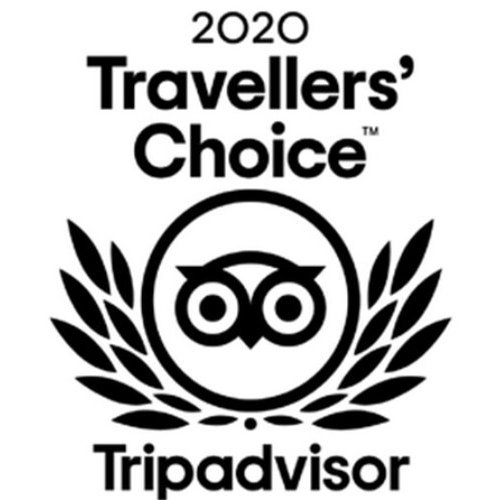 Tripadvisor Travellers' Choice 2020
This award is the highest possible distinction on Tripadvisor and is presented once a year to the most popular businesses in selected categories. We are proud to count ourselves among these businesses. More on www.tripadvisor.at
Pistenhotel Award 2020
As part of a new award, pistenhotels.info has awarded the 50 best hotels in the Alps on ski slopes – and we are among the best, rated second best. Thank you very much!
HOGAST Job Arbeitgeber GOLD Award 2020
We are particularly proud of this award. Based on an employee survey conducted by the independent consultancy EUCUSA, we were awarded the Hogast Job Employer GOLD Award 2020. The survey evaluated information on the work situation and working environment, the company, development opportunities, management and interaction with each other. In total, we scored 93 points and thus achieved gold. A big thank you to the entire Schneider team!
Recommended on HolidayCheck Auszeichnung 2020
It doesn't get any better! With the highest points of 6 and 100% recommendation we are among the best rated Hotels on HolidayCheck. Thank you to our guests, who are not getting tired to rate us and also to our team, which loves to pamper our guests from the arrival to the departure.
HolidayCheck Award 2019
We are very enthusiastic and thankful!
The 3rd time in succession we were honoured with the HolidayCheck Award.
We would like to express our deep gratitude to our guests and of course to our team, who does an outstanding job! This award is the best motivation for us and we keep on improving. Thank you!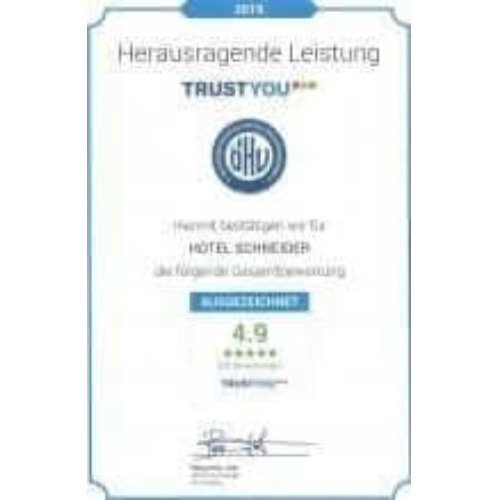 TrustYou Certificate 2019
TrustYou is the biggest guest-feedback platform worldwide and collects and analyses reviews from more than 250 sources. The TrustScore is the sum of all verified ratings worldwide and an independent quality label for the hotel industry. We are particularly honoured since we are one of the 50 best-rated hotels in Austria. Thank you to all of our guests and the entire team!
HolidayCheck Award 2018
It's the second time straight after 2017 that we received this award once again. Thank you to all our guests and to the whole team to make this possible. We are very proud!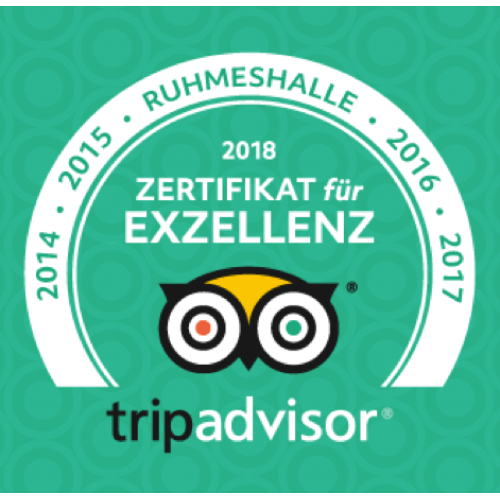 Tripadvisor Certificate of Excellence 2018
After 2017, 2016, 2015 and 2014 we received this award the 5th time without a break. Thank you so much to our guests for their time to write a rating on Tripadvisor. Also we want to say thank you to our team for their untiring efforts. This is the way we want to keep on going!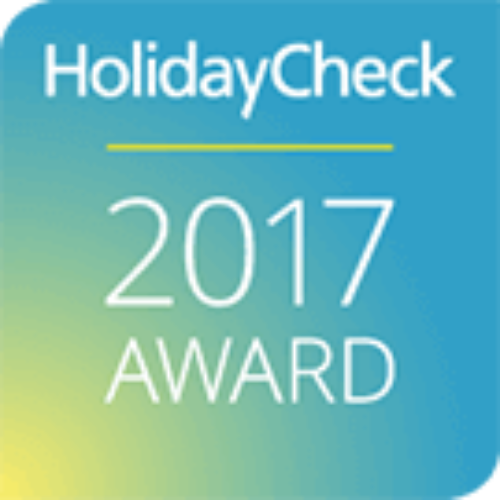 HolidayCheck Award 2017
Thank you to our team for their superb work. And thank you to our guests for their sincere and positive ratings on HolidayCheck. We are very proud of this special award 2017.
HolidayCheck Award 2015
Thank you to our team for their superb work. And thank you to our guests for their sincere and positive ratings on HolidayCheck. We are very proud of this special award 2015.
HolidayCheck Award 2013
Due to the excellent hotel reviews written by our guests we were presented with the HolidayCheck Award 2013 as most popular winter sports hotel in Austria and count amongst the top 99 most popular hotels worldwide. We would like to thank our guests for the many great reviews and our staff for their dedication and hard work.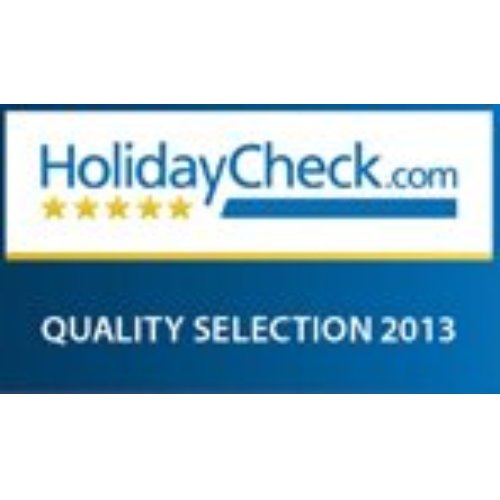 HolidayCheck Quality Selection 2013
The "Quality Selection 2013" award confirms that our hotel belongs to the best rated hotels on HolidayCheck. We would like to take this opportunity to thank all our guests, who took the time to submit a hotel review.
HolidayCheck Top Hotel 2011
Due to the great guest reviews and excellent recommendations on HolidayCheck our hotel was voted one of the top Hotels 2011. We would like to thank all our loyal guests for their good reviews.